India: October - November, 2008
-- Jonathan Feenstra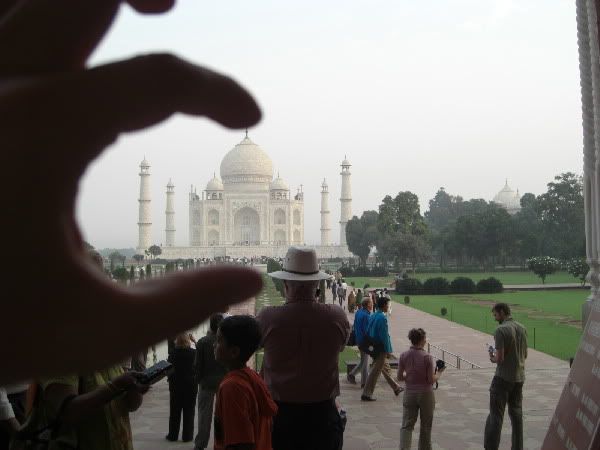 I had been waiting for this trip for a long time. Nearly the entire 2008 I had been making threats to myself and my finances to drop off the grid for a while and head to India. It had been a threat partly because it would be above and beyond the rather painless traveling I had done previously in the US, Europe, and Mexico. In India I would be a real alien, a newcomer to people who look different plus thousands of years of cultural evolution. It would be a whole new game of adaptation and stretching the limits of my comfort zones, plus a completely new perspective on this silly planet. After all, one out of six humans live in India.
October 20-21: Transit to London
At it again. Here I am on a plane to London. This will be my third time in London in three years, though, this time I'm really just changing planes; a glorified layover of 16 hours. I will spend the night, maybe catch a pint, but I won't see anything but a little bit the Kensington street.
Back to the beginning: My last logged travel was last November's driving trip down the length of Baja California. Since then I have moved from my Airstream trailer in the hills to the urban hardscape of central Los Angeles. I've worked for a variety of eco-companies to scrape up the dough. I caught foul ball at a Major League Baseball game in Pittsburgh. I've spent about 25 days on the ocean and seen a few new birds. Probably some other things I that don't come to mind at the moment. About the usual sorts of stuff for me.
I got into London at about 4PM, took the Tube to Baron's Court, checked into my hotel. I got the word that there was a solid pub down the street, The Three Kings near the Kensington tube stop, and tossed down a couple of pints and a steak&ale pie that made my mostly-vegetarian stomach gurgle. Back at the hotel I overheard a young guy on the phone in the lobby say, "Yeah, I voted already. Voted for McCain." Don't those people usually not even have passports? Shouldn't he have been in a meeting with his broker or in an RV on his way to another chili cook-off somewhere?
Funny to think about it, but London was the first overseas city I had ever visited, in June of 2006 and it represented a big step at the time. I remember being a little frightened at first until I realized that it's just like NYC. And now? Now it's nothing: the Tube, the getting things done, all of it. But it makes me conscious of just how terrified I am of getting off the plane in Delhi tomorrow night. I hope I can get it as quickly.
Khajuraho (Must be at least 18 years old)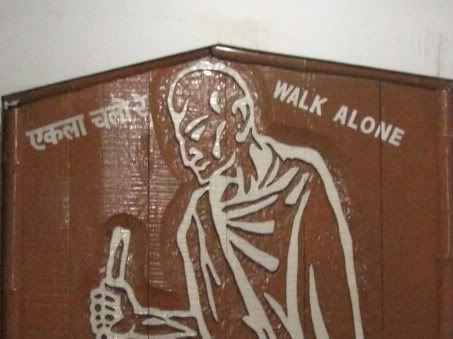 17 November: Transit to Delhi
During the night, I took my "nuclear option" antibiotic, azithromycin, and, by early morning was tender, but well enough to move. I packed up my gear, met Aggar and Bernd the German for tea. Bernd also gave me an Indian stomach pill which he said works way better than any of the foreign medication.
Aggar was also heading to Jhansi that morning so we shared the bus ride. At Jhansi she headed off to Orchha and I caught the train to Delhi. While at the train station I assumed my standard role of foreign celebrity and shook hands and had my picture taken with several high school cricket teams who were in transit from a match. Like other Indians I had met previously, these were also very amazed that I was traveling alone and preferred to sit on the floor out on the platform rather than wait with other tourists in chairs of the 2nd class waiting room.
Back in Delhi, I had to get from the H. Nizamuddin train station to the New Delhi Train Station. Not only was my hotel near the NDTS, but I also had to get the bag I left at the train station locker room. It was about 11PM when I got to Nizamuddin. Walking out of the train station I was assaulted by the typical throng of taxi drivers all looking to overcharge a tourist for a ride. Unfortunately for them I had been in India for a month and was up on their bullshit. The prices they shouted at me decreased the closer I got to the scam-free pre-paid auto-rickshaw booth until I heard one guy say 80Rs; close enough and I didn't feel like waiting in line anyway. He asked me what hotel I was going to, and I replied that I wasn't going to a hotel, but instead to the NDTS. He didn't believe me and really thought I was going to a hotel just trying to dodge him (Cab drivers can sometimes get a commission from hotels for dropping tourists, and tourists get an inflated room rate to cover the commission.), he took me up to the hotel district of Pahar Ganj near the NDTS. I scolded him and told him to take me across the street (to the train station). Once there he told me that I would have to pay an extra 20Rs because it was after 11PM and there is a late night surcharge. I agreed that there is a late-night charge but that only applies to the pre-paid rides, and that we agreed on 80Rs when I got in the cab. He was eventually talked out of this. I gave him a 100Rs note and he said he didn't have change. I told him I'd wait. I sat in the back seat having a bit of a staring match with him until he produced a 10Rs note. I then hassled him enough that he gave me a second 10Rs note. This one was a bit crumpled, though, so I told him to take it back and get me a fresh one. He gave me one hell of a stare, I told him, "This is not my first time in Delhi," I reached over the seat, took a fresh 10Rs note out of the wad in his hand, and left the cab smiling triumphantly. That's how it's done.
18 November: Finishing it off
I felt well enough to eat a big breakfast, after which I checked out, and stashed my gear in the Vivek Hotel gear locker. I called Divya, the nice woman I met on the plane from London. She gave me directions to her family's flat near the airport.
I decided to take the Metro since there was a station nearby on the other side of the New Delhi Train Station. I walked from Vivek through the swelling throngs of Pahar Ganj, said hello to my Kashmiri con-artist buddy, got stuck in a minor human jam caused by a marching band in the bazaar tooting and banging loudly and harmonizing with the high-caliber firecrackers being detonated by excited kids. I muscled through that blockage and past the aggressive rickshaw drivers on Clemsford, the sleeping and waiting and moving masses of the ND train station, across the elevated walkways to the Ajmer Gate side, down the steps, and... POOF! I am on the London Underground. I go to a window with an ordered queue, I get a token, I pass a modern security check and a motorized gate and onto a spotless platform and a quiet train where a pleasant voice tells me the name of the next stop and even tells me to be careful of pickpockets and mind that little gap between the train and the platform. Also like the Tube, people are silent and sit stiffly. There is a general feeling of cold efficiency - two words that couldn't be more antonymous with my experiences in India. After this outer-space journey, a quick rickshaw ride, and some miscommunication with a security guard that ended with Divya's sister Pooja coming to rescue me, I got to their family flat. A totally middle-class type place that would fit in just about any city. We drank some tea, ate some snacks, I told Divya and Pooja some stories and showed some pictures, and I met their mom. They are both from India, but the dad is diplomatic staff and they have lived for short periods in many countries all over the world. Mom and Dad are moving to Slovenia shortly and have only been in India on kind of a break for a short while. Divya has been living in Toronto for a while going to school and Pooja lives with her husband near Melbourne, Australia. The three of us went to Connaught Place to get dosas (South Indian food served in a banana leaf, like a curried tamale). Excellent. We also stopped and had a snack at McDonald's. A vegetarian McDonald's couldn't be funnier. After dinner we intended to go to the movies, but show times weren't compatible and I had to be back at my hotel for an 11PM cab ride to the airport. Instead we went to a coffee shop, put down some caffeine and talked India.
It was great hearing their perspectives. They are both ethnically Indian and speak Hindi, but have lived most of their lives outside of India. It is clear that they feel a great connection with the place and really enjoy any time they have there. Pooja in particular commented very positively on the warmth of the culture and the quality of the education system, and even the low cost of living that allowed poor people to survive and middle-class people to live very comfortably. She said that she would rather raise children in India so that they would grow up with the culture, than have them be cold heartless Westerners. It was very nice to hear. Though, I can say that the experiences I've had in India span both the good and the bad, and weren't entirely consistent with the rosy picture painted by the two sisters. Anyway, it was a great way to end my time in India.
19 November: Back to the First World
This I write on the plane back to the US via London. What can I say? It's hard to summarize an entire month, and even harder to do so when that month was spent immersed in a very foreign culture. How was India? I know I'll be asked plenty of times. India is the Ganges. It's warm and dirty. In its warmth I feel the climate (other than in the Himalayas) and the humidity, the shirt clinging to my back, the tightness of the train compartment with all the bodies pressed in there, the temperature on the street with the vehicles and the crowds, the hot blasts of vehicle exhaust, and the spice of the street food that makes my nose run. And the friendly hospitable and smart people in their bright colors. It is dirty. There's that grit in the air that I feel in my teeth, that smell of garbage and excrement that penetrates everything, the black film that covers the buildings and cars and I can wipe off my face at the end of the day, the garbage on ground. And the cheaters.
Like the Ganges. It looks bad, smells bad, might make you sick, but there is comforting warmth and vibrant life. There is much to love and hate. There is a current. It is slow but strong and moving against it is exhausting. The pace in India cannot be changed by one person. Most of the time, you just have to go with it. It's big. It could be an ocean from one of its banks. It is tepid and stinking and very Special and nothing like it anywhere.
But, here I am on my way back to the First World without too much more to write. One month wasn't enough. Now I've been there and seen a little bit of it. I've got an idea of how it works: the crush of humanity and the constant vigilance one has to adopt. It was fun, but I can hardly say it was relaxing. I'd definitely go back and do it again, maybe even to see some of the same places. I can't say I'd recommend it to everyone. There are sterile trips, but that's not India. You got to have a hard heart. And a strong nose (and stomach). Be slow to anger, slow to trust, but be friendly. Do what they do. I might miss the place, but I'm looking forward to returning to what is familiar with some lessons learned and hopefully a more worldly perspective.